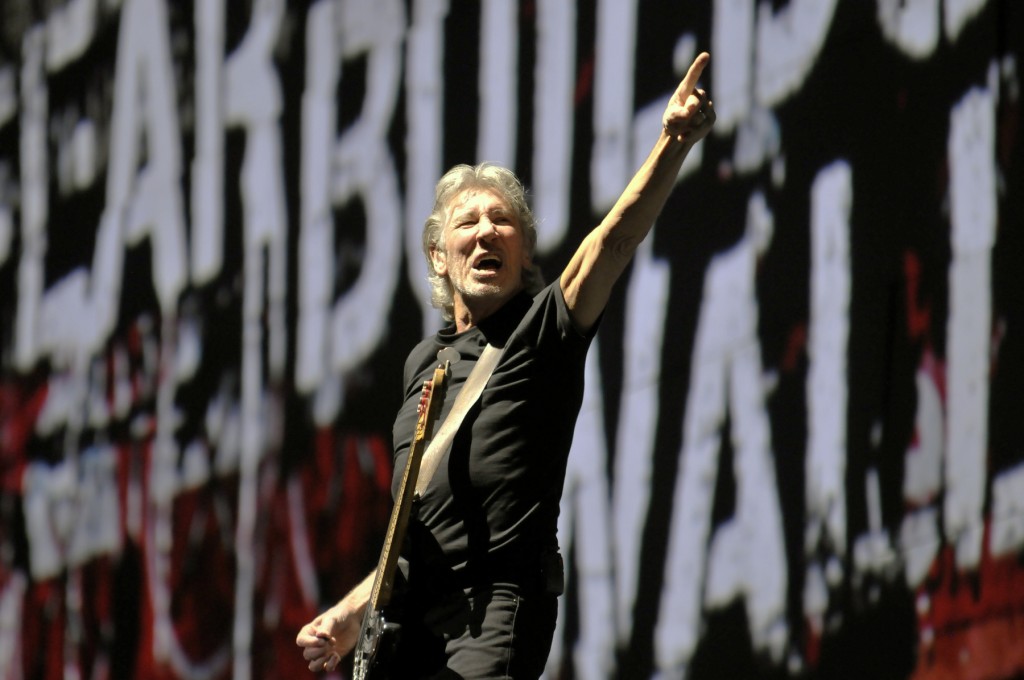 As a teenager, Tim Adler associated Pink Floyd with the worst of Prog Rock. Thirty years on, will a new concert movie of Roger Waters performing The Wall change his mind?
Celebrities often get stuck at the emotional age they first became famous. So Michael Jackson was forever a child, while Miley Cyrus with her middle finger raised is a petulant teenager. Roger Waters first found fame in Pink Floyd aged 22, and watching Roger Waters The Wall, his new concert movie, you get the sense that at the age of 73 he is still a disaffected polytechnic student.
Roger Waters The Wall documents the biggest tour by any solo artist in history, staged around the world between 2010 and 2013.
Waters seems to hate everything: WAR = BAD, EDUCATION = BAD, COMMUNISM = BAD, FASCISM = BAD, MOTHER = BAD, EX-WIFE = BAD … especially CONSUMERISM = BAD (although presumably that doesn't extend to the audience wearing Pink Floyd tee-shirts and other tour merch). The only thing that Waters doesn't seem to find bad are FEELINGS, and the two-hour concert movie was like struggling out of the weed-stinking embrace of an avuncular old hippie.
When I was a teenager, there was a huge difference in musical taste between years. The study of one boarding schoolmate, a couple of years older, was swathed in a Moroccan tent of crushed velvet with gatefold album covers of Pink Floyd, Led Zeppelin and Yes thumbtacked to the walls. "Once you get into this, you'll never get out of it," he assured me. "Really," I murmured, turning the pages of that week's NME. Compared to Echo and the Bunnymen, The Teardrop Explodes and Talking Heads, Pink Floyd just seemed so, well, old fashioned.
Look, when it comes to Pink Floyd, I've really tried … I love the naive English psychedelia of the early Syd Barrett era, but as they went on, the more pompous the sound became. Nevertheless I thought I would give Roger Waters The Wall another go, taking along my 18-year-old son as a litmus test. In this digital jukebox era of Spotify, he wouldn't have all my emotional baggage of the Floyd when it comes to the actual music.
There is no denying the brilliance of the concert staging: mind-bending animations of bricks reassembling are combined with the genius of original Gerald Scarfe movie animation. I suppose my problem is Waters himself, who, hunched over his guitar, has an unfortunate tendency to look like your grandfather masturbating at the point of ejaculation — there's lots of grimacing as we launch into another extended solo. And the audience — mainly French teenagers trying out those irritating adolescent wispy moustaches — seemed to love it. Some of them were even in tears when Waters, in a moment of pure Marcel Marceau camp, finally "breaks through" the wall. Clearly the problem was me.
"So, what did you think?" I asked hopefully as we came out of the screening. "I just kept wanting it to end," my son replied.
---
Roger Waters The Wall will be released simultaneously in cinemas at 8pm local time on Tuesday, September 29. Tickets are available at www.rogerwatersthewall.com